Yet again, the Pats are onto the Super Bowl! It's absolutely incredible to see them here again for the third time since I moved back to Boston in 2013! The third. Numero tres. Nummer drei. Namba tatu.(that last one is swahili, just in case) This is a historical and monumental time for us New England natives and fans. We will be reminiscing about this for a long, long time!
As busy as I am preparing to launch Avail  I always make time for the Pats. And, no matter how strapped I am for time or what the occasion may be; a game, a birthday or a dinner  with friends I am always looking for clean eats. What I fuel my body with is a top priority. You do not need to be an elite athlete to strive for the benefits of eating a meal plan that is founded in plant-based, whole foods. Life is a sport. If you don't stay on top of your game, make the right food choices and exercise regularly, you will inevitably become part of the statistics around dietary related disease.
Here are a few Patriot-themed, delicious, simple recipes that you can whip up before the big win on Sunday!
"GRONK SPIKED CHICKEN BITES"
Togarashi Roasted Chicken with Spiked Ranch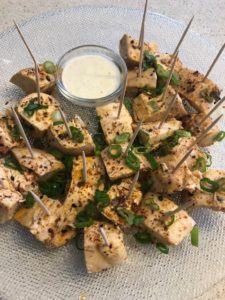 3 lbs bone-in chicken breast
2 tablespoons coconut oil
3 tablespoons togarashi spice
2 teaspoons sea salt
1 tablespoon scallion, sliced thin
toothpicks
Method:
Preheat oven to broil. Place chicken in a mixing bowl and rub down with coconut oil. Coat with togarashi spice and salt.
Place on a stainless steel broiler pan (or baking sheet) and roast for 5-8 minutes.
Turn heat down to 325 and continue to bake until cooked through and reaches 165 degrees on a thermometer at its thickest side, about 20-30 minutes depending on size of chicken.
Remove from oven and let the chicken rest for 5 minutes. Remove skin and cut chicken off the bone. Cut into 1-inch cubes.
Lie flat on a serving plate and put toothpicks in each one. Scrape any sauce from the roasting pan onto the chicken cubes.
Sprinkle a little more togarashi on top if you'd like some added spice.
Sprinkle scallions over plate and put a toothpick in each piece and serve with Spiked Ranch for dipping.
Spiked Ranch (dairy-free)
1 cup cashews
1 cup water or (insert spike here by replacing 1 tablespoon of water for liquor)
¼ cup lemon juice4 garlic cloves
1 teaspoon black pepper
½ teaspoon salt (to taste if needed)
pinch chili flakes
Method:
Blend all ingredients in a high-powered blender until smooth, 30-45 seconds
"The Mending Squirrel Needs a Good Source of Nuts!"
Rosemary Walnut Turkey Meatballs with Creamy Tomato Sauce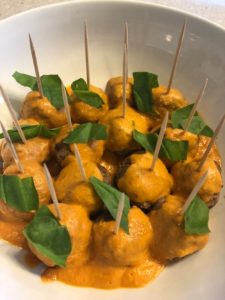 ½ cup walnuts, toasted (@375 8-10 minutes)
¼ cup yellow onion, diced small
2 tablespoons garlic, minced
3 tablespoon coconut oil
1 lb ground turkey (mix of white and dark or all dark)
¼ cup rosemary, chopped fine
pinch chili flake
salt and pepper to taste
1 tablespoon coconut oil
handful basil leaves
Method:
In a food processor chop walnuts until finely ground.
In a saucepan over medium heat sauté onion and garlic in 1 tablespoon of coconut oil until golden brown, 2-3 minutes.
In a mixing bowl combine turkey, rosemary, ground walnuts, onion/garlic and season with salt and pepper. Divide mixture into bite-size meatballs, about 24.
In a large sauté pan over medium heat, sear meatballs in remaining 2 tablespoons of coconut oil until cooked through, 2-3 minutes on each side. (Faster Option: Preheat oven to 400. Lay meatballs flat on a baking sheet lined with parchment paper. Bake for 12-15 minutes until cooked through)
Place meatballs in a shallow bowl and spoon Creamy Tomato Sauce on top.
Just before serving tear basil leaves and sprinkle over entire dish. Put a toothpick in each meatball.
Creamy Tomato Sauce
2 teaspoons coconut oil
2 tablespoons yellow onion, chopped
4 garlic cloves
1 ½ cups canned whole plum tomatoes with liquid (organic San Marzano are best)
¼ cup water
pinch coconut sugar
¼ cup raw cashews
¼ cup water
1 teaspoon red wine vinegar
salt to taste
Method:
In a saucepan over medium heat melt coconut oil. Add onion and garlic and cook for 2-3 minutes until golden brown.
Add tomato, ¼ cup of water and sugar.
Reduce heat to low and simmer for 25 minutes stirring at the bottom after 10 minutes and again after 20 minutes.
Remove from heat and let cool a bit before blending, 5 minutes or so.
Scrape tomato sauce into a high-powered blender with cashews, ¼ cup water and vinegar. Blend until smooth, 20-30 seconds, and season with salt.


"The Limber GOAT"

Spinach and Avocado Dip



2 cups baby spinach
1 avocado, cut in chunks
2 tablespoons flat leaf parsley, chopped
2 tablespoons extra virgin olive oil
2 tablespoon lemon juice
1 tablespoon nutritional yeast
¼ teaspoon ground cumin
1 garlic clove, grated
pinch chili flake
salt and pepper
Fresh cut veggies or tortilla chips
Method:
In a food processor pulse together spinach, avocado, parsley, olive oil, lemon juice, nutritional yeast, cumin, garlic and chili flakes until somewhat smooth but still chunky, about 20 seconds.
Use a rubber spatula to scrape it down and pulse again.
Transfer to a mixing bowl, season with salt and pepper and mix.
Serve with freshly cut veggies or tortillas chips.
(I prefer Siete tortilla chips )
These recipes were also featured in the Boston Herald